All about the Owners
Friendship and Partnership
Sharon Lascheck and her family had recently relocated to Vancouver from the South Bay area of sunny California when she met native northwesterner, Kathy Stanley. Both were long-time educators and soon found themselves teaching together. Besides a passion for teaching and children, Sharon and Kathy found they had much in common. Their families were very much alike, and next to God, their families came first, before work and play.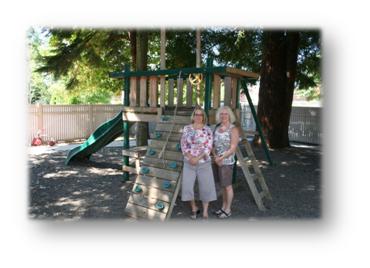 Going into business together seemed like a natural thing to do… They would put their eyes on the Lord and use their education and experience (as educators and parents) to guide them as they built KIDSPACE Child Enrichment Center. They would build their preschool and child care center around the values they shared with their own children, as well as the hundreds of children they had previously taught.
Sharon and Kathy have owned KIDSPACE together for more than ten years. Through those ten plus years they have been able to hold tight to their values and philosophies despite a changing world. As they reflect back they wouldn't trade those years for anything. They have learned so much… grown so much… and most importantly have been touched by so many. The strong foundation of their business has been built and now they are looking forward to sharing the future with many more children and their families.
Sharon graduated with her degree in physical education and also has a great deal of gymnastics experience. She still does a beautiful cartwheel. Her P.E. background has very much influenced the philosophy and the facility of KIDSPACE. Sharon is married to James, her husband of 30 plus years. They have two grown children. Both are married. Her daughter, Megan is a teacher in the Evergreen school district and Sharon's son Nick, a U of W graduate, lives in Seattle and works in the software industry. In her free time, Sharon enjoys outdoor activities (hiking, skiing, biking, running and boating) with her family.
Kathy has her degree in early childhood education and has taught preschool in Clark County for more than 30 years. Kathy and her husband Mark have been married for more than 30 years and have two grown children. Allison, a registered nurse, is married and lives in Vancouver. Ty, is currently living in Vancouver while enrolled in the Master of Arts in Teaching program at Concordia University and is also an assistant baseball coach for the university. Kathy dabbles in photography and bookmaking. She also enjoys many activities with her family including hiking and watching sports.
Chances are if you make an appointment to visit KIDSPACE Child Enrichment Center, you will either be escorted by Kathy or Sharon or you will see them in the classroom teaching. They are both "hands on" owners and enjoy working with the staff and the children.
Give them a call… come visit… meet Sharon and Kathy in person… you'll be glad you did!