Back Room
The Backroom has many interest centers which encourage learning and a sense of community through play and interaction with peers.
The Block Center is filled with a variety of blocks and materials. Children have space to be creative and industrious engineers while cooperating and problem solving with friends.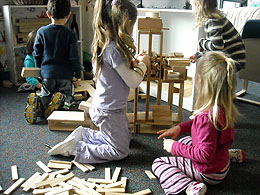 Benefits:

Through the design process of building structures, children gain knowledge of math concepts such as shapes, space and patterning.

Children discover facts about science concepts such as balancing and gravity.

Children use their imaginations to create homes, zoos, stores, freeways, bridges and much, much more!

Children engage problem solving skills throughout the entire building process to work out building dilemmas, as well as, issues that arise from working with others.
The Legos and Duplos Center
The Danish inventor of Legos named the toy after the Danish phrase, "leg godt," which means "play well." This 50 plus year old toy never loses its play value for young or old.
Benefits:

While playing with Legos and Duplos children gain valuable patterning practice.

Children use and develop fine motor muscles and dexterity.

Children learn to think in three dimensions – a precursor to physics.

Children use problem-solving techniques.

Children think creatively during their play with Legos and Duplos.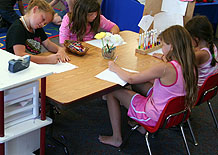 The Writing Center is one of the favorite places for the children to gather. They enjoy using the many different writing utensils available to them as they write and illustrate books, notes, papers and other writing projects. Scribbling is a form of pre-writing and we honor it just as we do letters and words.
Benefits:

Children build hand strength through writing, scribbling and drawing.

Children learn directional movement patterns.

Children learn how to hold writing utensils.

Children learn to write letters and numbers and draw shapes through practice.

Children begin to experiment with words and begin to understand that reading is simply the written word.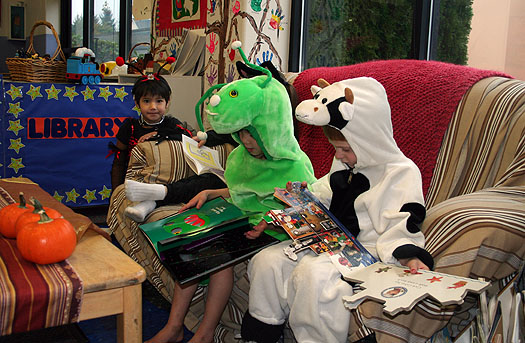 The Library Corner is also a great gathering place. It is not unusual for children to choose books to read to themselves, each other or to dolls and stuffed animals. The library corner is the Barnes and Noble of KIDSPACE. . . a place to be near others while enjoying the pleasure of a good book.
Benefits:

Children increase their awareness of print and writing.

Teachers and students have a comfy place to share a book together.

Children develop a taste for good literature.

Children practice storytelling.

Children recite stories after hearing them.

Children observe details in illustrations which give them clues about the story.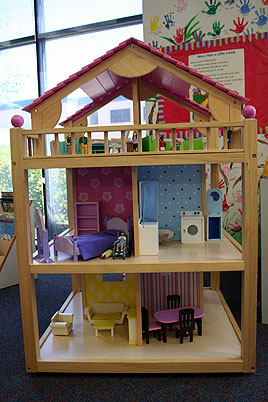 The Big Dollhouse is a large three story house full of furniture with many multi-cultural families to pretend with. Unlike traditional one sided dollhouses most of us grew up with, this dollhouse is four-sided, which encourages spontaneous group role-playing.
The House Keeping Loft is a cozy little house complete with all the comforts of home. Many meals are prepared in the child size kitchen. The dress up clothes and the baby dolls add to the fun of the pretend play.
The Dramatic Play Center changes like the wind. In a matter of days you could be ordering pizza from the pizzeria, buying gardening supplies and flowers from the garden shop or supervising Santa's elves make and wrap Christmas gifts. The dramatic play center has a home in the backroom, but dramatic play can happen anywhere. For many days straight the gym was transformed into a mini city with a variety of shops and even a mayor!
Benefits of role playing:

Children imitate essential life skills from adults.

Children acquire language skills.

Children engage problem solving skills.

Children explore imagination and think in the abstract when role playing.

Children explore how to understand someone else's perspective.
The Square Table Interest Center is used to highlight activities which stir interest in the children. The table may hold items as simple as puzzles and manipulatives to complex "hands on" science and math exhibits.
Benefits:

Children learn through multi-sensory activities which actually stimulate brain growth by increasing the number of pathways between the cells.

Children are exposed to many diverse activities giving them opportunities to experience a variety of activities which may ignite a spark of interest and be a jumping off point for further explorations.