Bluebirds 4 Year Olds Child Care
The Bluebirds class is especially designed for children preparing for kindergarten the following year. The "hands on" curriculum is rich in language and literacy, math, science and the creative arts. The structure of the class gives the children an excellent balance of child initiated activities and group activities; each of these gives the children knowledge and experiences to prepare them for kindergarten and beyond.
Once a week the bluebirds participate in a gymnastics class at Naydenov Gymnastics Center. The monthly tuition
covers the cost of the class. The children end their year with an informal presentation to show off to their parents the skills they have learned.
As with all of our classes, we encourage parents to be involved in their child's educational experience. Parents are always welcome in the classroom and have many opportunities to volunteer on a regular basis or for special events.
Two fold lesson: Helping one another and the sensory experience of makingfootprints while walking around an "O" to experience the motion of "O."
Being an educator, I knew the experience I wanted for my daughter and was not finding it, until I came to KIDSPACE. You brought me such relief and hope. Thank you for all the wonderful teaching opportunities you have provided. She has grown and blossomed and loves "preschool." Thank you also for all the love and support you have given me, as a parent, over the past three years. – Jenn
Gymnastic Classes at Naydenov Gymnastic Center
A Bluebird Day
The morning schedule –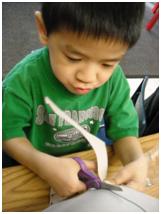 Tub time (puzzles, manipulatives, art and learning activities)
P.E (organized large group physical activities and games)
Gym time (free time to run, jump, roll, climb, play with balls)
Snack time (a time to eat and visit with friends)
Group time (music, learning activities, literacy, and more!)
Class time (free time to build, pretend, draw, paint, etc)
Outside (fresh air, sensory, gross motor play, and exploring nature)
Story time and Good-byes (a time to relax with rich literature)
The afternoon activities-
Lunch (wash hands, visit with friends and eat!)
Rest, Relax, and Nap (peaceful music, stories, quiet time)
Quiet activities for non-nappers (sensory play, manipulatives, cooking and art)
Snack (clean hands, visiting, and more healthy fuel for our bodies)
Gym time (free play)
Outside (fresh air, sensory and gross motor play, exploring nature)
Click here to view and read more about the facility
Facility Hours: 7:00 a.m. to 6:00 p.m.
Enrollment: We enroll new students throughout the year unless the class is full.
Waiting List: Openings from the waiting list will be filled in order of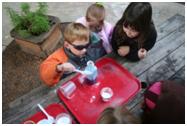 the waiting list, with the following exception: families with siblings already enrolled at KIDSPACE Child Enrichment Center have first priority.
Holidays: KIDSPACE Child Enrichment Center will be closed on the following days: New Year's Day, President's Day, Memorial Day, Fourth of July, Labor Day, Thanksgving and the day after, Christmas Eve, Christmas Day and usually one other day at Christmas. We are also closed three in-service days through out the year for teacher planning and training.
Meals: Children enrolled in extended care programs need to bring their own lunch. KIDSPACE will provide milk and a fruit. Children may bring their breakfast to eat in the morning. Please make sure children eat at home if they arrive after 8:30. All snacks are provided by KIDSPACE Child Enrichment Center.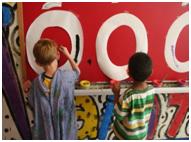 Allergies: KIDSPACE Child Enrichment Center is a "peanut free" school. If your child has any allergies, please notify us immediately.
Napping: We recognize that the preschool years are often a transitional time for children and their need for naps. We provide a relaxed, peaceful environment for children to calm themselves and rest. Children are not required to nap; usually those that need it, fall asleep. Those children that do not nap get up from their mats after the other children are asleep and participate in quiet activities. It is a very pleasant and relaxing time for all the children.
Children enrolled in extended care programs need to bring their own sheet and blanket for their rest mats. Children may also bring something special to snuggle with. Parents are responsible for washing bedding once a week. Full size pillows are not allowed due to space and hygiene restrictions.