Bluebirds 4 Year Olds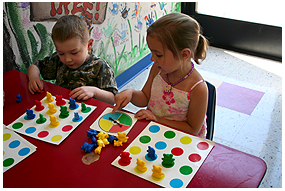 The Bluebirds class is especially designed for children preparing for kindergarten the following year. The "hands on" curriculum is rich in language and literacy, math, science and the creative arts. The structure of the class gives the children an excellent balance of child initiated activities and group activities; each of these giving the children knowledge and experiences to prepare them for kindergarten and beyond.
Once a week the bluebirds participate in a gymnastics class at Naydenov Gymnastics Center. The monthly tuition covers the cost of the class. The children end their year with an informal presentation to show off the skills they have learned.
As with all of our classes, we encourage parents to be involved in their child's educational experience. Parents are always welcome in the classroom and have many opportunities to volunteer on a regular basis or for special events. We also encourage parents to come early to pick up their child and share storytime together.
The preschool day begins at 9:00 a.m. and ends at 12 noon.
"I used to think that dropping my son off at school and leaving him would be the hardest part of preschool. But now I know that I was wrong. Leaving KIDSPACE is the hardest part. I have actually cried several times the past few months, knowing that seeing you greet him in the morning and send him off in the afternoon is closing. How lucky is the child that will take his place next year." – Stacey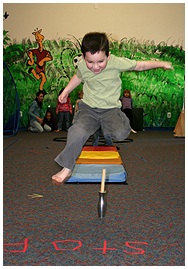 A BLUEBIRD Preschool Day
Tub Time (puzzles, manipulatives, art and learning activities)
P.E. (organized large group physical activities and games)
Gym time (free play and large group games and activities)
Snack (a time to eat and visit with friends)
Group time (music, learning activities, literacy, and more!)
Class time (free time to build, pretend, draw, paint, etc.)
Outside (fresh air, sensory and gross motor play, exploring nature)
Story time and Good-byes (rich literature and a pleasant good-by)
Jack be nimble. Jack be quick.
Jack jump over the candlestick.
Click here to view and read more about the facility
Preschool classes begin in September and run through the middle of June. We accept enrollment through the school year unless the class is full. We also offer summer programs.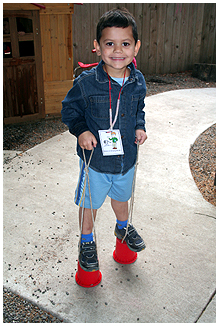 Waiting List: Openings from the waiting list will be filled in order of the waiting list, with the following exception: families with siblings already enrolled at KIDSPACE Child Enrichment Center have first priority.
Holidays and Breaks: Children enrolled in preschool only will follow the public school calendar for holidays and school breaks.
Extended Care: Before and/or after school care or additional days can be arranged in advance as space permits. The cost is $5 per hour.
"It is very comforting to know as a parent, that you cared so much for our children. KIDSPACE truly was the best choice I could have made for my children in preparing them for school." – Korri