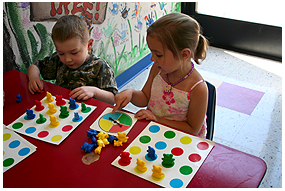 Children are a special gift to this life and of course parents want what's best for them. This means that education often enters into the conversation, and that discussion needs to take place early on in life. Part of this educational issue revolves around the question of whether children should attend Vancouver preschools and daycares. There are some children who do attend preschool, and some who do not. Let us quickly look at a few points that should help you decide upon an answer that works best for you and your kids.
Advantages of Attending Preschool
There are quite a few advantages to a child attending a preschool in Vancouver, WA, or the greater Portland metro area. The first notable advantage is related to academic achievement. This is backed up by years of studies that indicate children who attend preschool enjoy a higher overall level of academic achievement and tend to repeat grades less often than those who do not attend. Higher graduation rates are also associated with early education. These academic advantages span across all socio-economic groups. In other words, children from both low-income and high-income families equally benefit from attending preschool.
Learning social skills
There is also the social aspect of attending preschool that must be taken into consideration. The long-term impact of entering school early has been noted to result in a positive impact on the social and emotional development of children. Children who attend Vancouver preschools learn valuable social skills that enable them to get along well with other children at a much earlier age than those who are delayed entry into school. You do not have to put your child in an all-day preschool to achieve these advantages. Even a few hours a day is beneficial for long-term brain development for children at this highly impressionable age.
Readiness for School
Many parents are concerned that their children will not be ready when it comes time to enter primary school. This is another key reason why it might be beneficial to enroll your child in one of the quality Vancouver preschools in the area. Children who attend preschool will be more prepared to enter school, and this is noted by their more advanced progress reports when they attend kindergarten. Positive gains in achievement scores are noted when children attend preschool, and they are more prepared socially and emotionally as well.
Vancouver preschools and daycare
If you have questions about Vancouver preschools, give Kidspace a call today. As a leader in early childhood education, they will take as much time as you need to feel comfortable with the decision that you ultimately make in the best interest of your child.