Chickadees Child Care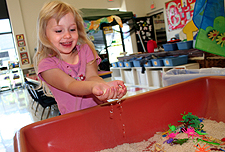 The Chick-a-dees class is a specialized class with a very low student-teacher ratio. This class is designed to give three year old children an excellent first school experience. (We also consider mature 2.5 year old students for this class.) The curriculum focuses on individual and small group learning experiences with socialization, motor skills and language development as key learning objectives.
The children will have daily opportunities to explore, create, and discover as they participate in many multisensory activities encouraging children to learn by doing.
Children at this age are fascinated with literature, books and stories. Using literature as a foundation for learning, children are introduced to reading and other cognitive skills through their love of books. It is a wonderful and natural way to learn, while at the same time developing in them, a love of literature.
Children should be familiar with and working on toileting skills, but they do not need to be fully potty trained.
As with all of our classes, we encourage parents to be involved in their child's educational experience. Parents are always welcome in the classroom and have many opportunities to volunteer on a regular basis or for special events.
"We did not feel that our son was getting the personal attention and education that he deserved at one of the larger and more expensive national chains. When we met Kathy and Sharon, saw the facility and felt the passion that everyone at KIDSPACE exudes, it made our decision easy. We have been so happy with the change! It is hard to communicate the gratitude we feel for what you are doing for our son and for all of the children at KIDSPACE. You are helping make the world a better place, and you all should be commended." – Jenn & Kevin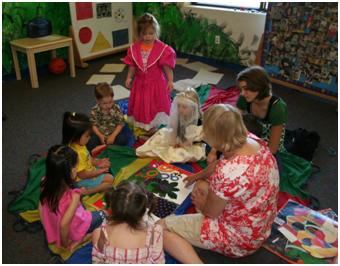 A Chick-a-dee Day at School
The morning schedule of activities –
CLASS TIME (imaginative play, table activities, building, etc)
BATHROOM (practice good hygiene and self help skills)
SNACK (social time and eating)
GROUP TIME (music, singing, counting, stories and more!)
OUTSIDE (sensory, gross motor and nature explorations)
GYM TIME (gross motor play)
STORY TIME (time to relax with a story or two)
The afternoon schedule of activities –

LUNCH (wash hands, visit with friends and eat!)
REST, RELAX, NAP (peaceful music, stories, and quiet)
QUIET ACTIVITIES FOR NON-NAPPERS
SNACK (clean hands, visiting, and more healthy fuel for our bodies)
GYM (free play)
OUTSIDE (fresh air, sensory and gross motor play, exploring nature)
Click here to view and read more about the facility
Facility Hours: 7:00 a.m. to 6:00 p.m.
Enrollment: We enroll new students throughout the year unless the class is full.
Waiting List: Openings from the waiting list will be filled in order of the waiting list, with the following exception: families with siblings already enrolled at KIDSPACE Child Enrichment Center have first priority.
Holidays: KIDSPACE Child Enrichment Center will be closed on the following days: New Year's Day, President's Day, Memorial Day, Fourth of July, Labor Day, Thanksgving and the day after, Christmas Eve, Christmas Day and usually one other day at Christmas. We are also closed three in-service days through out the year for teacher planning and training.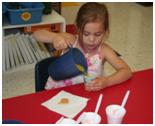 Meals: Children enrolled in extended care programs need to bring their own lunch. KIDSPACE will provide milk and a fruit. Children may bring their breakfast to eat in the morning. Please make sure children eat at home if they arrive after 8:30. All snacks are provided by KIDSPACE Child Enrichment Center.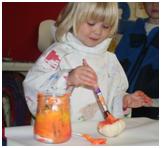 Allergies: KIDSPACE Child Enrichment Center is a "peanut free" school. If your child has any allergies, please notify us immediately.
Napping: We recognize that the preschool years are often a transitional time for children and their need for naps. We provide a relaxed, peaceful environment for children to calm themselves and rest. Children are not required to nap; usually those that need it, fall asleep. Those children that do not nap get up from their mats after the other children are asleep and participate in quiet activities. It is a very pleasant and relaxing time for all the children.
Children enrolled in extended care programs need to bring their own sheet and blanket for their rest mats. Children may also bring something special to snuggle with. Full size pillows are not allowed due to space and hygiene restrictions.