Child Care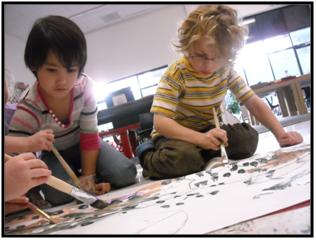 KIDSPACE Child Enrichment Center has developed three preschool classes and a school age program.  All of our programs, staffed by qualified and caring early childhood professionals, are designed to meet the needs of the growing child and his or her busy family.  Our facility opens at 7:00 a.m. and closes at 6:00 p.m.
In addition to providing a loving environment where children's needs are our top priority, we incorporate a "hands on" learning curriculum which meets the developmental requirements of children preparing for kindergarten and future academic success.
As you read through our preschool class offerings, you may also want to study the benefits of preschool and what qualities to look for in an exceptional preschool program.  Look for both articles under the preschool heading.
The Chickadees class is for the three year old child (and mature two and half year olds).   The objective of this class is to give children their first experiences interacting with peers in a classroom setting and giving them many opportunities to work with a variety of materials in which to explore.  To read more specific information, including learning objectives and tuition, see Chickadees under the child care heading.
The Bluebirds class is for children preparing for kindergarten the following fall.  The developmentally appropriate, literacy rich curriculum immerses children in daily "hands on" activities to capture their interest and excitement for learning.  To read more specific information, including the daily schedule, parent recommendations and tuition costs see Bluebirds under the child care heading.
The Robins class is for children who are already five or nearly five years old and ready for an all day   experience.  Children attend Monday through Friday 9:00 a.m. to 3:00 p.m.  In addition, we offer extended care for before and after class.  The daily curriculum, rich in developmentally appropriate, yet challenging activities, encourages young learners to explore and discover on their own, with small groups or as a class.  This class is an excellent choice for children with strong social skills and an enthusiastic desire to acquire knowledge through hands on exploration.  To read more specific information, including tuitions, curriculum and a parent's perspective see Robins under the child care heading.
The Eagles class is designed for children in kindergarten through fifth grade.  The school age program incorporates the many interests, as well as, needs of the school age child.  The children have many opportunities to participate in many diverse activities from cooking to sports and everything in between.  Children have fun playing, learning, and creating while receiving excellent care from an experienced and professional team who know and understand the school age child.  For more specific information about the complete school age program, click on the school age tab or click the Eagles tab on the child care drop down menu.