Family-Friendly Hikes in Clark County
Kids are happy and healthy when they get regular exercise. Our Vancouver daycare keeps kids moving with an outdoor playground and indoor gym. We believe physical play boosts our students' spirits and helps them learn.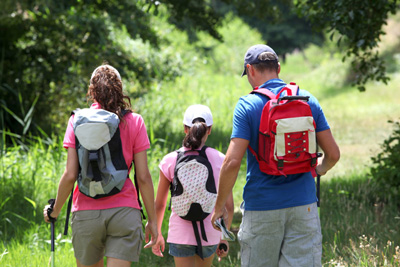 You can keep the fun going by staying active with your kids after work and on weekends. Summer's long days are the perfect time to enjoy being outside with your family. But the parks around Clark County beckon even when the weather's cold and wet.
Community parks are scattered throughout the city and county. When you're ready to hit the trail, you'll find family-friendly hikes in Clark County regional parks.
Here are three of southwest Washington's most beautiful natural areas, all a short drive from Vancouver.
Salmon Creek Regional Park and Klineline Pond
A 3-mile paved trail runs along Salmon Creek through natural wetlands. The flat path is easy for kids to hike or ride a bike. Wildlife, including waterfowl and birds of prey, frequent the area. Habitat restoration is ongoing along parts of the trail.
Kids can cool down in Klineline Pond or in the park's spray feature on summer days. A lifeguard is usually on duty from July to Labor Day. The park also offers a bathhouse and life jackets.
Learn more about Salmon Creek Regional Park.
Lacamas Lake Regional Park
Get out your fat-tired bikes and hiking boots (sneakers will work, too) because this east-county park boasts miles of hilly, woodland trails. Some of the grades are challenging, but paths near Round Lake at the park's main entrance are flat.
In April and May, hikers that venture into the park's hills are greeted by fields of Camas lilies in bloom. Several bridges overlook falls along Lacamas Creek. The park has a small playground, a restroom and picnic shelter. Trails are well maintained. For those who want an extended outing, the adjoining Lacamas Heritage Trail meanders for a little more than three miles along Lacamas Lake.
Learn more about Lacamas Lake Park.
Lewisville Regional Park
The Lewis River graces the 154-acre Lewisville Park. This venerable old property has it all: playgrounds, play fields, horseshoe pits, picnic shelters, fishing and a boat launch. Nearly three miles of dirt and gravel paths run through the park. The trail travels through a wooded area and along the river. If you want to combine several types of activities in a single outing, Lewisville Park may be your best bet.
A small swimming hole with a nearby bathhouse makes for a refreshing break on a summer's day. Numerous covered picnic shelters with stone fireplaces or pits are available. You'll need a reservation if you want to ensure a covered shelter.
Learn more about Lewisville Regional Park.
Tips for Hiking With Kids
When hiking with small kids, the key to enjoyment is to stay flexible and find a kid-friendly park. You may start out with a trek in mind, but if the venue has a playground, that may ultimately prove more enticing.
Once you're out on the trail, be prepared for lots of stops to play, explore and rest. Bring snacks, water, extra clothing and your sense of adventure.
Enriching Childcare in Vancouver
Kidspace provides an enriched environment in its daycare for preschool and school-age children. Contact us to learn more about our facility.
Tags: daycare, exercise, hiking
Trackback from your site.