How KIDSPACE Engages Your Child's Body and Brain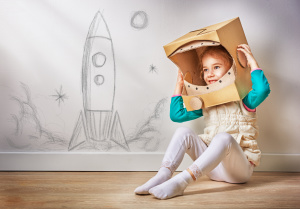 At KIDSPACE, we hold the fundamental belief that when it comes to early childhood education, cultivating a healthy body and a healthy brain are two sides of the same coin. With America's obesity epidemic on the rise, it has never been more important for children to get regular physical exercise, in addition to having their minds stimulated on a daily basis.
According to a 20-year-long study conducted at the University of Pennsylvania, steady cognitive stimulation for kids at the age of four is an essential factor in brain development in later years. At Kidspace, our programs and facility merge to ensure your child's mind and body are consistently engaged.
Stimulation of the mind and body is essential to KIDSPACE's educational philosophy. To this end, we have a 2,500-square-foot gym that includes a basketball area, a fun boat for adventure and imagination, a dedicated play space to stoke creativity and movement simultaneously, and many organized and physically active games such as Capture the Flag and dodgeball.
As a parent, you likely know that childhood obesity has a host of physical complications that accompany it, such as type 2 diabetes, hypertension, and heart disease later on. Other health complications from obesity include sleep apnea, metabolic syndrome, gallbladder disease, infertility, liver disease, cancer, stroke, osteoarthritis, and high cholesterol. Luckily, an hour of exercise every day should prevent obesity for children and can greatly diminish the risk of developing these conditions.
Of course, physical movement is essential for brain development as well. When they get regular exercise, children are more likely to be relaxed and focused on the tasks before them if they have gotten some moderate exercise, instead of being keyed up and distracted, which makes it more difficult to concentrate on the lesson and to absorb the knowledge.
Exercise has been found to raise children's moods and their senses of self-worth, in addition to providing myriad health benefits. Being physically active also helps children sleep better at night, which in turn helps them perform better in school.
Movement also increases a child's spatial reasoning. Exercise helps children not only develop an increased sense of coordination, but it helps them to be more aware of their surroundings, their personal space, and other people's personal space. This provides kids with a hands-on and fundamental understanding of spatial reasoning.
Additionally, movement enhances creativity. Studies have found that children in more heavily academic classes that involve sitting for long periods of time are less creative and more anxious than those children who incorporate movement and music into their days.
Regular physical activity helps academic performance and memory as well. Movement stimulates growth in both the cerebellum and the cortex, boosting academic performance and memory skills. Multisensory interactions from movement also help create synapses that enhance brain function.
Lastly, exercise helps children learn about their bodies. Besides improving motor skills, movement facilitates a deeper understanding about how the human body works, which gives kids a firmer sense of self-confidence. Studies have shown that physical activity helps coordination and dexterity and builds healthy muscles and bones. Exercise can help kids become more balanced and graceful and helps them to understand the mechanics of their bodies more. The more exercise children get, the more connected to their bodies they become, which leads to a general feeling of well-being.
The KIDSPACE Child Enrichment Center in Vancouver, Washington, provides the utmost in early childhood education for your preschooler. If you're interested in giving your child a nurturing, conscientious, and organized environment in which to flourish, please give us a call at (360) 944-9300.
Tags: cognitive development, exercise, fitness, mind and body, movement, preschool brain development
Trackback from your site.