Middle Room
The primary focus of the Middle Room is art, science and sensory experiences.  Creativity abounds in this classroom with many opportunities for children to explore a multitude of art, science and sensory materials.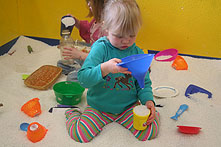 The Crystal Sandbox is an eight foot square box filled with nontoxic, FDA approved plastic polymers.  This is a magical relaxing space for children.  The quality sensory play is both educational and therapeutic.  In the sandbox are many materials which encourage children to sift, pour, measure, and compare.  Also in the sandbox are animals, vehicles, cooking and tableware for children to use in their imaginative play.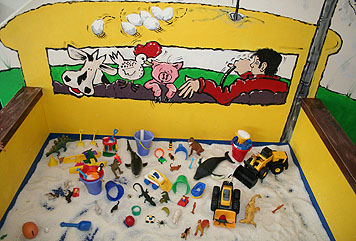 Benefits:

Children acquire math knowledge associated with weight, volume, measuring and comparing.

Children improve fine motor skills.

Children expand their imagination and creativity by using the materials in a number of ways.

Children build social skills by pretending, sharing and cooperating.
---
The Science Tent has manipulatives with a math and science focus.  The large 50 gallon aquarium is home to our friendly fish and the many young spectators that enjoy observing them.  The fiction and non-fiction science books provide information in print and pictures for the children.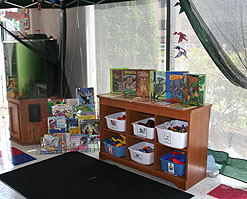 Benefits:

Children build knowledge of the properties of math and science through exploration of materials and manipulatives.

Children learn observation skills.

Children learn responsibility of caring for pets and the simple biology of fish.
---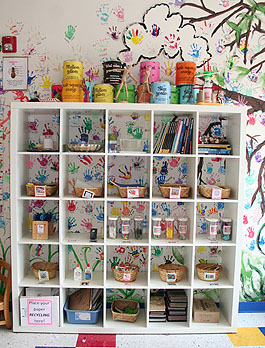 The Collage Center fills a good portion of the back wall.  The children use a variety of materials to create, draw, glue, tape and build.  Children have free access to this center anytime they are in the middle room.
Benefits:

Children learn the properties of color and texture through experimentation.

Children learn to identify a problem and then work to resolve it through experimentation with different materials.

Children learn inventiveness, the application of knowledge and persistence when designing their own projects and working on them to completion.
---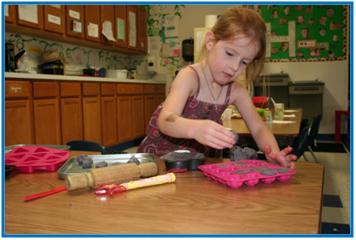 The Playdough and Clay Center is a portable center. Always available to the children is our soft and wonderful school-made playdough (click for recipe).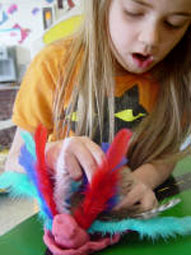 Making playdough is a frequent and favorite event at KIDSPACE.  We make cooked playdough.  The smells, warmth and softness of the freshly made playdough is an exquisite sensory experience for the young and young at heart.    We also make a gluten-free playdough for our friends who have wheat and gluten sensitivities.  Frequently through the year, children also work with potter's clay, another excellent, but quite different sensory experience.
Benefits:

Children learn that through pinching, poking and shaping the playdough each of their actions have a consequence.

Manipulation develops the child's large and small muscles and fosters eye-hand coordination.

Children learn the basics of sculpture such as rolling a ball and a rope.

Playing with clay and playdough is very soothing.

Playdough and clay cultivate imagination and creativity in children.
---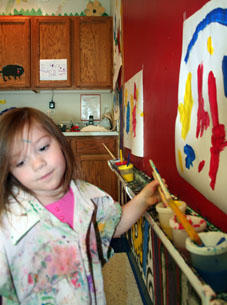 The Painting Easel is a time honored tradition for novice and professional artists alike.  Our wall-mounted easel gives the children opportunities to paint side by side encouraging conversation, sharing of paints and cooperative projects.
The Art Center is always available in the middle room, but teachers often set up an impromptu art center in the backroom or outdoors.  Teachers introduce a vast array of materials for the children to use and explore.  At the preschool age, much of their art is experiential, meaning the end product is often not as important to the child as the process.
Benefits:

Painting and art helps develop children's imagination and creativity.

Art exploration and painting improves manual dexterity.

Painting teaches children about the properties of color and color mixing.

Children practice observing something and then trying to recreate what they see in their minds eye with paint, clay, paper, chalk or collage materials.