Outdoor Play Ground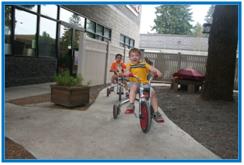 The Great Outdoor Play Area is as beautiful as it is fun and healthy for the children.  A variety of tall trees anchor the playground giving it a natural canopy in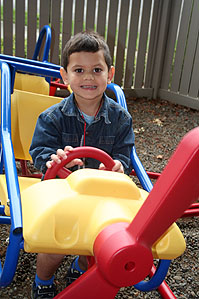 rain or shine.  The concrete path that circles around the playground is most often a highway for the children "driving" their trikes.  Along the way, the children can stop to fish from the real row boat, take a trip on the teeter-totter plane, stop and visit the lion statue on the brick patio, get in some rock climbing and a good ride down the slide before arriving at home to do chores!!!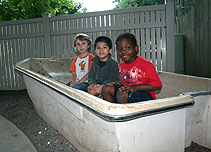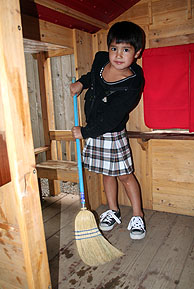 Benefits:
Outside light triggers the synthesis of vitamin D which is vital to the immune system among other health benefits. 

Vigorous exercise increases endurance and muscular strength.

Active outdoor play increases children's ability to focus,
thus boosting academic performance.

Activities such as, nature explorations, digging, and
hunting for bugs, is calming and therapeutic for children.