Robins (4.5 – kindergarten) Child Care
The PRE–K ROBINS class is especially designed for children who are very close to, or already, five years old and who possess strong social skills and a keen enthusiasm for learning. This advanced program, for the older preschool child, will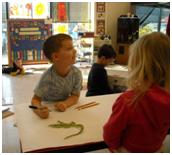 challenge children with an emergent, developmentally appropriate "hands on" curriculum. Science, math, art and literature will be emphasized while at the same time preparing the children for a successful and easy transition to elementary school.
Many children at this age are showing interest in reading and writing. The children are given many opportunities daily to build their reading and writing knowledge and skills in fun, developmentally appropriate activities.
The ROBINS class meets from 9:00 a.m. to 3:00 p.m. Monday through Friday. There are 2, 3, 4 or 5 day options. Before and after care is also available for students in the Robins class.
Once a week the ROBINS participate in a gymnastics class at Naydenov Gymnastics Center.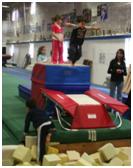 The monthly tuition covers the cost of the class. The children end their year with an informal presentation to show off to their parents the skills they have learned.
As with all of our classes, we encourage parents to be involved in their child's educational experience. Parents are always welcome in the classroom and have many opportunities to volunteer on a regular basis or for special events.
A ROBIN Preschool Day
Morning Meeting (a time to come together to say hello and plan the day)
Table time (small group and individual activities which focus on reading, writing, math and art)
Class time (imaginative play, art, games, building and more!)
Snack (visiting with friends and feeding our hungry bodies with healthy foods)
Group time (time tape, music, learning activities, literacy and more!)
Outside (fresh air, sensory and gross motor play, exploring nature)
Lunch (clean hands, visit and eat a healthy lunch)
Quiet Reading and Writing (children relax to peaceful music, read books, write or draw)
Gym time (free play and large group games and activities)
Class time (free choice or group activities)
Story time and Good-byes (rich literature and a pleasant good-by)
Being an educator, I knew the experience I wanted for my daughter and was not finding it, until I came to KIDSPACE. You brought me such relief and hope. Thank you for all the wonderful teaching opportunities you have provided. She has grown and blossomed and loves "preschool." Thank you also for all the love and support you have given me, as a parent, over the past three years. – Jenna
Click here to view and read more about the facility
Facility Hours: 7:00 a.m. to 6:00 p.m.
Extended Care: Before and after class care is available for students in the ROBINS class. Occasional care before or after class is available as space allows. The cost is $5 per hour.
Enrollment: We enroll new students throughout the school year unless the class is full.
Waiting List: Openings from the waiting list will be filled in order of the waiting list with the following exception: families with siblings already enrolled at KIDSPACE Child Enrichment Center have first priority.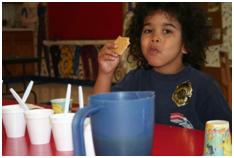 Holidays and Breaks: Children enrolled in the ROBINS class will follow the public school calendar for holidays and school breaks.
Lunch and Snacks: Students enrolled in the ROBINS class need to bring their own lunch. KIDSPACE will provide milk and a fruit. A morning snack is provided by KIDSPACE Child Enrichment Center. KIDSPACE Child Enrichment Center is a "peanut free" school.