Staff
Very few professionals go to work every day to play and learn. We do!!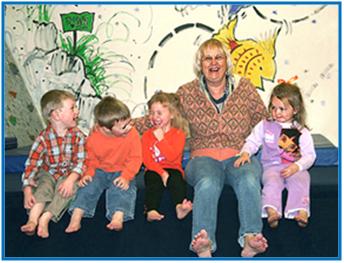 Plato, the Greek philosopher said, "You can discover more about a person in an hour of play than in a year of conversation." KIDSPACE Child Enrichment Center staff is a dedicated group of professionals who believe children learn best when they are valued and respected. The teachers spend time getting to know the children in order to plan and set up a learning environment and curriculum that is both joyful and challenging to the children.
---
The qualities we look for in our staff are:
a deep knowledge and understanding of children's needs and learning processes
similar educational philosophies
similar value systems
a dedication to work hard in and out of the classroom
a continuing thirst for knowledge
easy to laugh
flexibility
takes time to enjoy a moment
respectful and supportive of peers
the will and the ability to adhere to guidelines set by the state
We have hired teachers with their Masters degree and teachers with no degree. What have we found, is that while a degree is very important, it not a pre-requisite for hiring. Classroom teaching experience and the qualities listed above are at the top of the list.
All of our staff must pass a thorough background check, be CPR and first aid certified, and meet all the minimum standards set by the State of Washington.
Many of our teachers have been a part of the KIDSPACE team for many years. In the field of early learning, it is extremely important that children have consistent adults in their life. It is our goal to hire well qualified teachers who are happy and stable. In addition, as management, we work hard to provide a healthy and fun working environment for our team of professionals. We provide paid holidays, vacations and teacher in-service days in order for our staff to be rested, refreshed and always learning.
Call today for a tour so you can see our qualified educators at "play" in the classroom!