Eagles School Age Child Care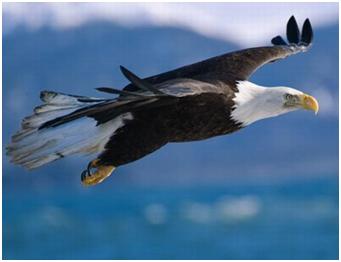 The Soaring Eagles: an Enrichment Program for School Age Children
The Eagles class is for children attending elementary school (K – 5th grades). The before and after school program boasts many excellent qualities including an excellent professional staff who understand and care about the characteristics of the elementary aged student. The multi-use facility adapts to the many developmental needs of the children, including one of their most pressing needs (especially after school), the need to release energy! KIDSPACE Child Enrichment Center has a 2,500 square foot gym with a wall mounted basketball hoop and a large gymnastic spring floor. The open spaces work well for organized as well as spontaneous group games. There is so much creating, exercising, building, exploring, playing, cooking and imagining that we don't have time for video-playing. There are no electronic games or televisions at KIDSPACE Child Enrichment Center!
ELEMENTARY SCHOOLS
During the school year, KIDSPACE Child Enrichment Center services the following elementary schools: Walnut Grove Elementary School (Vancouver School District) and Orchards Elementary School (Evergreen School District). We also accept students from other schools. Parents must arrange for transportation to KIDSPACE Child Enrichment Center for schools other than Walnut Grove Elementary and Orchards Elementary.
AGE GROUPS
Everything about a fifth grader is different from that of a kindergartner.  Every child has the right to be in an environment which promotes developmentally appropriate activities and enrichment opportunities for their age and developmental level. That is why the children are grouped according to age (with some flexibility for social and skill maturity) for their classroom time each day.
CURRICULUM AND ENVIRONMENT
Each teacher plans the curriculum for their own class, taking into account the interests and skill levels of the children. For example, on a recent day we had three diverse examples of teachers supporting the children in their interests and helping them build upon their knowledge through hands on experiences. One class, very interested in retail economics, opened up not one, but two restaurants and did it all themselves. They planned and wrote the menus, created the ambiance in the restaurant by setting beautiful tables, and cooked and served pretend food. In addition they had their own hostess and cashier. They even made their own money. At the same time, another class interested in fireworks, discovered how to make a safe, non-toxic smoke bomb. They were very successful. The third class was in the gym actively involved in a game of Sharks and Minnows. Of course, the restaurant temporarily closed up shop and the game of Sharks and Minnows was paused so everyone could witness the thrilling smoke bombs made by a class of the oldest students and their teacher.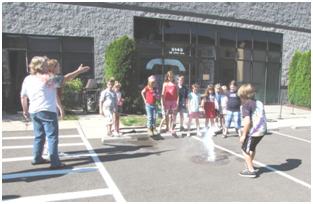 Children will experience and explore science, creative arts (music, dance, drama and art), recreational games, and cooking through student initiated and teacher planned activities. In addition, children will have daily opportunities to explore age appropriate materials to build, discover, create and imagine through self-exploration.
We have an indoor gym which provides opportunities for large group games, as well as running, jumping, climbing and releasing pent up energy.
The other two other classrooms provide an excellent environment for hands on experiments and creative projects.
ORCHARDS WEST PARK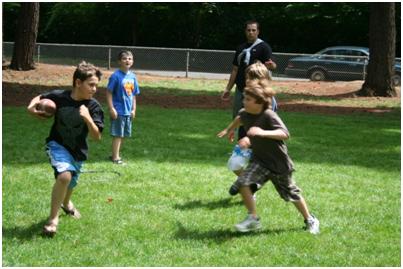 This woodsy neighborhood park (two and a half blocks from KIDSPACE) has a large, safe playground, open grassy fields and tall trees, making this an excellent location for many outdoor activities. The school age students come to the park often to play recreational and organized games such as kickball, football, and tag.
HOMEWORK
Children may always work on homework while at KIDSPACE Child Enrichment Center. However, the staff does not incorporate mandatory homework time into our daily afterschool curriculum. Teachers plan for children to focus their energies into "hands on" enrichment and learning activities.
FEES FOR ALL SCHOOL AGE STUDENTS
One time registration fee – $75
Semi-annual material fees – $60 (billed Sept/Feb)
Non-school attendance days
billed at $5 per hour after the first three hours up to a maximum of $25 per day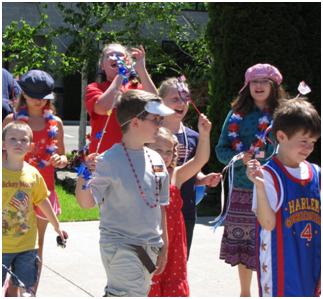 Facility Hours: 7:00 a.m. – 6:00 p.m.
Enrollment: We enroll new students throughout the year unless the class is full.
Waiting List: Openings from the waiting list will be filled in order of the waiting list, with the following exception: families with siblings already enrolled at KIDSPACE Child Enrichment Center have first priority.
Holidays: KIDSPACE Child Enrichment Center will be closed on the following days: New Year's Day, President's Day, Memorial Day, Fourth of July, Labor Day, Thanksgiving and the day after, Christmas Eve, Christmas Day and usually one other day at Christmas. We are also closed three in-service days throughout the year for teacher planning and training.
Meals: Children may bring their breakfast to eat at KIDSPACE before school. Children need to bring their own lunch on non-school days. KIDSPACE Child Enrichment Center will provide milk and fruit for lunch and all snacks.
Allergies: KIDSPACE Child Enrichment Center is a "peanut free" school. If your child has any allergies please notify us immediately