Our Facility
Welcome to KIDSPACE Child Enrichment Center!!!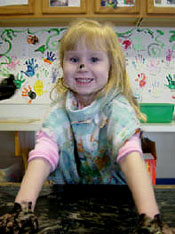 An important feature of KIDSPACE Child Enrichment Center environment is that it feels safe, secure and welcoming to our children. Our facility has many safety features which parents appreciate, including electronic bells on every door, a gated entryway and a keypad entry on the front door.
The most powerful motivator to learn is the natural joy that comes from learning. There is a beauty and a purpose in the design and organization of all the space in our school, the equipment, and materials within it. The environment is rich in potential and is valued and cared for by the children and the adults.
As a staff of dedicated teachers we continue to create experiential learning environments which provide opportunities for exploration and experimentation that are essential in the development of independent and inquisitive learners.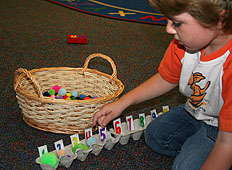 KIDSPACE Child Enrichment Center is designed with large spacious rooms. The facility has three rooms which have simply been labeled by staff and students as "the gym," the "middle room," and the "backroom." Gym time is a part of every child's daily schedule. Each class has assigned days in the middle and backrooms to ensure all children get plenty of time to explore the interest areas in each room. We consider our playground an outdoor classroom, because of its many opportunities for growth.
Join us now for the virtual picture tour of our facility and/or contact us to have your own personal tour of KIDSPACE Child Enrichment Center. To see and read more about each classroom click on each room on the menu under facility. Also available is a short one minute video all about KIDSPACE. Click on the video icon to watch it now.