School Age
KIDSPACE Child Enrichment Center provides a program to fit all the growing needs of the school-age student, K – 5th grade. We understand the characteristics of the school age child (high energy, creative, eager to learn, likes fairness, social, practicing large muscle and fine motor skills, etc.) and provide a varied and interesting curriculum for them.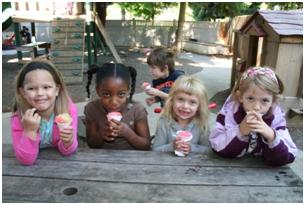 Throughout the year the child care needs of the family change, depending on the school schedule. We too adapt our schedule to meet the family need for safe and exciting activities for their school age child.
Our Eagles class is designed to give elementary students a diverse and stimulating curriculum before and after school. During nonschool attendance days, school vacations and during the summer the Eagles class goes into full day mode to provide stimulating all day programs for the children. In addition, we accommodate late arrival and early release days from school. Click on Eagles in the submenu under the school-age heading to read more.
The Kinder-Robins class is for children attending kindergarten in the morning or afternoon and needing an enrichment program to supplement their school experience. For more information on this class, click on Kinder-Robins in the submenu under the school age heading.
Look up KAMP KIDSPACE in the submenu under the school age heading to find more information including tuition on our all day programs in the summer. KAMP KIDSPACE is also available during spring and winter breaks.